Congratulations to Wesley McMeen and Kynlee Brandt for being students of the month in October. Keep up the great work. Congratulations to Beth Mueller for being staff of month in October.

Reminder that tomorrow October 4th is an 11:30 dismissal.

Hiring new cheerleading coach. JUNIOR HIGH COACH WANTED FOR: CHEERLEADING – Contact Mark Hettmansberger, Superintendent, Odell Grade School, 203 North East St., Odell, IL 60460. (815) 998-2272. Interested parties must meet IESA certification requirements. Send letter of interest with background information or contact the school if you have questions.

Just a reminder that the last day to turn in t-shirt money for Red Ribbon week is on Monday. Please make sure if you are ordering a shirt that you have them turned in on time.

Congratulations to the following students on being students of the month. From 3rd grade we have Ashytn Schott and from 8th grade we have Alaina Franklin. Sending a congratulations to Jessie Legner our new 7th grade teacher for being nominated staff member of the month.

Hope everyone enjoys the three day weekend. There is no school Monday due to the Labor Day Holiday.

Back to school night is August 13th at 6pm. If you are in 3rd grade, 4th grade, or a new student in 3rd-8th grade you will need to attend the Chromebook meeting at 5:30. First day of school is August 14th with a 2pm dismissal. Looking forward to seeing everyone on Tuesday .

The August school board meeting has been changed to August 15th at 6pm.

Announcement. First day of school for K-8 is August 14th and for pre-k its August 15th.

Thursday, May 30th is OGS awards ceremony at 1pm. Parents are welcome to join if they are able to.

Remember there is no school on Monday because of Memorial Day. Enjoy the 3 day weekend.

5th Grade wants to thank all the people who helped them raise money to support Winter the Dolphin at Clearwater Aquarium. Their class project raised a total of 212.00 all the while learning about the importance of protecting wildlife, ocean habitats, philanthropy, teamwork, letter writing and so much more!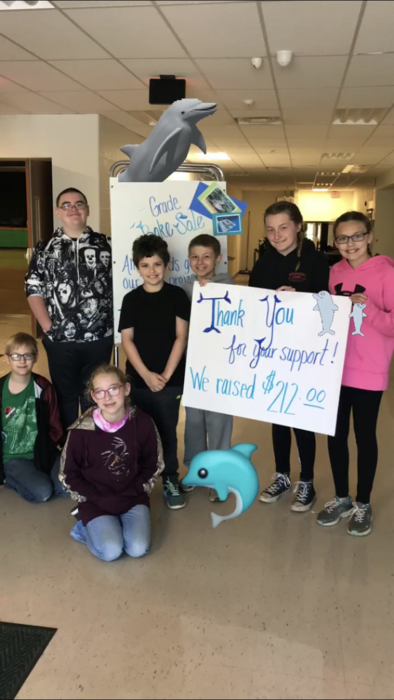 Don't forget pop sales end tomorrow at OGS!!! Proceeds are going towards the purchase of an American ninja warrior obstacle course for field day!!! Teacher appreciation week is next week, a simple easy way to let your favorites know they care!!!

Congratulations to Taylor Henson in fourth grade and Zechariah Landstrom on being our students of the month. These two students have demonstrated great qualities on being a student at OGS.

Don't forget to join us for this great even tomorrow, Thursday, April 11. Musical/Art Exhibit with a Retirement Celebration being held afterwards for retiring teachers, Sandy Erickson, Music, Marti Sullan, Art and Secretary, Karen Doughan. The Art Exhibit will begin at 6, followed by the Musical which will begin at 6:30. Our Retirement Celebration will be held afterwards serving cake, lemonade and iced tea. Please join us.

Show your school spirit by dressing up during spirit week next week. Monday- Mismatch day Tuesday-Sports Day Wednesday- Hawaiian Day Thursday- Hat Day Friday- Class Color Day PreK- orange Kindergarten- blue First- red second- green third- purple fourth- gray fifth- white sixth- black seventh- yellow eighth- rainbow specials teachers and staff- pink

Thursday, April 11, Odell Grade School is having a Musical/Art Exhibit with a Retirement Celebration being held afterwards for retiring teachers, Sandy Erickson, Music, Marti Sullan, Art and Secretary, Karen Doughan. The Art Exhibit will begin at 6, followed by the Musical which will begin at 6:30. Our Retirement Celebration will be held afterwards serving cake, lemonade and iced tea. Please join us.

Just a reminder. With warmer weather students will start going outside for PE and recess.

Come join us at 6:00 on Thursday, April 4th for Family Reading Night. Hope to see you there.

Hope everyone had a good spring break. School is back in session tomorrow morning April 1st.

Have a great spring break. We will see you back on April 1st.

Please note there has been a change of date for the April School Board Meeting. The meeting will be in April 29th at 7 p.m.

Congratulations to Trinity Aull and Abi Gall. These two students won the yearbook cover contest and their drawing will be on the 2018-2019 yearbook.

Winners from the Black History Month Contest were the following students. Tied for 1st- Taylor Henson and Abi Gall 2nd- Casey Vejvoda Tied for 3rd- Seth Mund and Bryce Wildman Tied for 4th- Tyler Drechsel and Cody Knight 5th- Emily Lavarier 6th- Mariah Wallis

Jump Rope for heart is Friday Feb. 22. Mrs. Oswald is still looking for parent volunteers from 10-11, and at the end of the day 2:30-3. All fundraising is due this day as well.

Spread The Word To End The Word Poster Contest. These year's theme is Rock Respect. Posters must be no larger than 12"x 22". All posters are due February 28, 2019.

Let's show some spirit next week with different dress up days for spirit week. 2/11-2/15 Monday- Pajama Day Tuesday- Twin Day Wednesday- Disney Day Thursday- Red/Pink Day Friday- Super Hero Day

Reminder that tomorrow, Thursday February 7th is an 11:30 dismissal.

The 100th day of school will be Wednesday Feb. 6th. Wear 100 items that day.

Spring pictures have been rescheduled. They will be on February 8th.

Due to the freezing temps there will be no school on Thursday January 31st.

Due to the cold weather there will be no school on Tuesday and Wednesday this week. Stay warm and safe.

Due to the weather conditions there will be no school today January 28th. Be safe.

Due to the projected weather forecast on Tuesday January 29th, Family reading night will be cancelled.

Due to freezing temperatures and bad winter weather school on January 25th is cancelled. Enjoy the three day weekend and stay warm.

Due to the icy conditions school has been canceled today.

School will dismissing at 12:30 due to the road conditions. There will be no afternoon pre-k.

Just a reminder that there will be no school on Monday due to Martin Luther King Jr day. Enjoy your three day weekend.

Congratulations to the students of the month for January. In fourth grade we have Xayden Aull and in seventh grade we have Lea Armour.

Thank you to everyone that came out and supported the Unified Special Olympic team from PTHS and the Odell sports teams. It was a great turnout and a fun time.

Please join us tonight for the big night of OGS sports. Volleyball starts at 4:30 followed by the PTHS Unified Special Olympics team. Then we will end the the night with the cheerleaders, boys basketball and 8th grade night for basketball. There will 50/50, raffles and a bake sale All proceeds go to the Unified Special Olympics.

Hope everyone enjoyed their break. We will back in session tomorrow January 7th.

Here are a few reminders. Tomorrow is pajama day and hot chocolate bar in the morning. Also we still have Candy Cane grams for sale and change wars going on.

Guess How Many??? This week PBIS is having a gift card drawing. If you would like to be in the drawing it costs $1.00. The gift cards are a $15 to Subway and $5 DQ and coupons.

Reminder that tomorrow night is the Winter Music program at 6:30pm.

Don't forget tomorrow is Hot Chocolate Bar in the morning. Make sure to get here by 7:40 and bring your $1.00 so you get your hot chocolate.

Change wars for Christmas Angels will be starting again. So get that change together and send some in. This is a great fundraiser that OGS does and needs your support to make it successful.

Student Council's food drive is still going through this week. Please send in some food for those that are in need. Let see how much OGS can collect.
The 8th grade class has started their fundraiser for Great America! They are selling Fannie May candy bars. Please help them by purchasing chocolate bars starting today!

Student Council members are collecting canned and dried food for the OGS school drive. The food drive will run December 3rd thru December 14th.

Due to the hazardous road conditions there will be no school today November 26th.

Check out the school's new app on either the Google Play store or the Apple store. Search Odell Grade School. You can see up to date information on sports, events, lunch menus, and announcement. Check it out today.

Reminder!! The Tabs Fundraiser orders are due tomorrow. Please make sure to turn those in.

Congratulations to Reagan Voss and Alec Jewell on being October students' of the month. Also congratulations to Mrs. Hack on being the staff member of the month.

Tomorrow is Halloween. The parade starts at 2pm followed by classroom parties. Please remember you still have to abide by the dress code.

Tomorrow is RED OUT!!!! If your child ordered a red ribbon shirt then have them wear that . If not then wear as much red as possible. Excited to see how much red this school can bring tomorrow.

Lets be on a the drug free team!!! That is our theme for tomorrow's red ribbon spirit. Wear you favorite shorts jersey or shirt.

Daily announcements!! Guess How many? Bring a dollar and guess how pieces of candy are in the "SPOOK"tacular PBIS jar. The winner will be announced October 26th.

The 8th grade class will be selling nachos during the 3rd-5th and 6-8th grade lunches on Thursday and Friday. Please try and pre-order your nachos. The cost will be $1.75.

Tomorrow's Red Ribbon theme is put a cap on drugs. Wear you favorite hat for hat day.

Tomorrow is turn your back on drugs!!! So lets wear our clothes backwards.

Reminder there is no school on October 19th. Enjoy the long weekend. Also check out our new website.
www.odellschool.org
There will be more stuff coming along with it soon. Look out for details.

Reminder!! Pay a $1.00 to wear a hat on Thursday. Student Council is donating all the proceeds to Olivia Noles.

Tomorrow is our first pep rally at 2pm. We will be live streaming it on our sports live stream youtube channel. You can find the link on our website.

Parent Teacher Conferences are just around the corner. Make sure to mark your Calendar. Conferences are on October 17th and 18th from 3:30-6:30. There will be no school on October 19th.

Mark your calendar for Grandparent's breakfast this Friday morning October 12.

Congratulations to Brianna Hilleary on qualifying for State in Girls Cross Country. Good luck at State.

The TABS fundraiser has started. Please look for a blue paper in your child's folder regarding this fundraiser. The fundraiser will run till Nov. 2nd and pick up will be Nov. 19th. If you have any questions please call the school and they will guide you to the person you need to get in contact with.

Congratulations to our September students of the month. Ayden Schott is our Prek-4th grade student and Emma Reichardt is our 5-8th student. Congratulations to both of them for being great students and demonstrating what are three R's are all about.