Today is the last day of classes. Everyone have a great break and we will update you on what day we will return! See you all in the New Year!!

Hello, This is just a reminder that food pick up is Wednesday Dec. 9th from 5:00-5:30.

Hello OGS family. Just reminder there is no school 11/25, 11/26, 11/27. Have great Thanksgiving and stay safe and healthy.

Congratulations to the following students for first quarter honors. Fifth Grade Perfect Honors (Straight A's): Brooklyn Williams High Honors (3.5-4.0 G.P.A): Addison Bressner, Nadia Davis, Anna Gall, Miley Rexroad, Kaitlynn Todd Honors (3.0-3.5 G.P.A.): Xadyn Aull, Lily Folkers 8 Total Sixth Grade Perfect Honors (Straight A's): N/A High Honors (3.5-4.0 G.P.A): Abigail Gall, Taylor Henson, Liliana Joyner, Ayden Schott, Casey Vejvoda Honors (3.0-3.5 G.P.A.): Kylie Hall, Emily LaVarier, Payton Mercer, Gabriel Reimer, Sydney Short 10 Total Seventh Grade Perfect Honors (Straight A's): Madison Franklin, Mariah Wallis High Honors (3.5-4.0 G.P.A): Kynlee Brandt, Tyler Drechsel, Cody Knight, Max Reichardt, Dane Riley, Sophie Riley, Bryce Wildman Honors (3.0-3.5 G.P.A.): Addison Hall, Zackary Legner, Brooklyn Todd 12 Total Eighth Grade Perfect Honors (Straight A's): N/A High Honors (3.5-4.0 G.P.A): Cooper Lamps, Korbin Lemay, Seth Mund, Claire Tucker Honors (3.0-3.5 G.P.A.): Kyla Baker, Hunter Howard 6 Total

We will do a food distribution Friday from 5-6 PM. Anyone is eligible for this distribution and all you need to do to receive food is email Misty at
patchettm@odell.k12.il.us
or myself at
markh@odell.k12.il.us
by 10AM tomorrow morning to get signed up. In addition, we have about 500 pints of chocolate milk that are due to expire on November 7th. If you want/need some milk but not food, you can just show up and take some of the milk. You do not need to sign up for the milk.

Reminders that Thursday Oct. 22nd is a 2pm dismissal and no school on October 23rd.

Here are a couple of reminders and things to be aware of over the next two weeks. No School 10/6 and 10/7 Remote Learning will start on Thursday 10/8 No School 10/12 Columbus Day We will return to school on 10/19 Food distribution will be on 10/7 from 4-6. Please contact Mr. Hettmansberger or Misty Prachett through email.
markh@odell.k12.il.us
PatchettM@odell.k12.il.us

Congratulations to Isabel Biernat and Shawn Cassell for being September student of the month. Also a big congratulations to Tanya Bell for being our staff member of the month.

Reminder tomorrow is picture day!! Bring those beautiful smiles!!!

Just a reminder that Friday September 4th is a 11:30 dismissal. Monday there is not school due to the Labor Day Holiday. Then on Tuesday we start regular school hours until 3pm.


You will find our Back to School Plan for 2020-2021 under documents on the website. We realize this plan does not answer all questions and in some ways, might create more questions than it answers. More guidance and information will be made available to families prior to the start of school. In addition, this plan is subject to change as new rules, laws or guidelines are provided. Thank you for all your patience and understanding as we have all navigated these truly unchartered waters.

For those who are still struggling with online registration, we will be having "help days" on Wednesday, August 5th from 9am-noon and on Thursday, August 6th from 4-6pm. Assistance for online registration on these days will be by appointment only. So, if you are needing help, please call the school at 815-998-2272 and speak Chelsey to set up a time that works best for you. Masks will be required during this time as well.

School is approaching which means it's time for Preschool Registration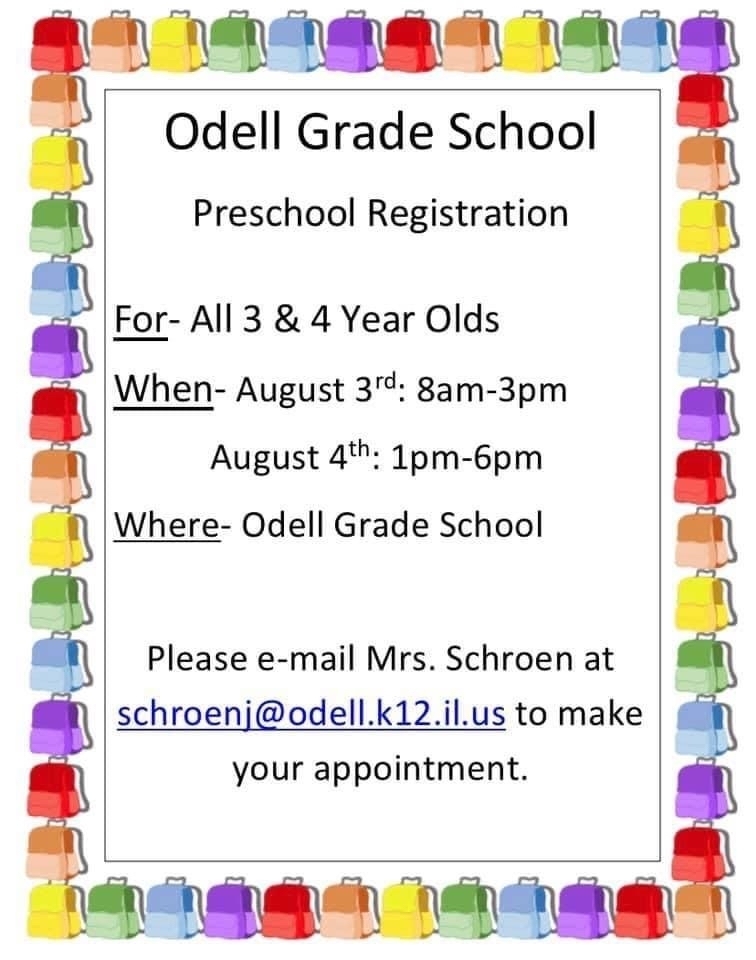 Attention Parent/Guardian(s): Online registration for the 2020-21 school year has begun. Registration will be completed through Teacherease (
www.teacherease.com
). If you already have a login for Teacherease, you should have received an email with instructions on how to register your student(s). Be sure to check your spam/other folder for this email. If you have not used Teacherease in the past, please register with your email and we will be able to assist you further. Should you have any questions, please email Chelsey Bressner at
bressnerc@odell.k12.il.us
This is a new process for Odell Grade School so we ask for your patience and understanding during this time. We will also be offering a few days in July to come in and register online if you do not have access to the internet! Those date will be released closer to July. Thank you Odell Grade School

Most of you have heard that the Illinois governor has closed schools down for the rest of the year. We will be getting in contact with you to explain what that means for the rest of the school. We miss all of our students and hope you are staying safe.

Please remember that chromebook and book pick up is today. Pre-k thru 3rd grade is from1-2 and 4th-8th is from 2-3. Thanks everyone and stay safe.

Please remember that spring pictures are tomorrow. So bring that beautiful smile.

Please Remember that tomorrow March 6th is an 11:30 dismissal.

Congratulations to Madison Voss and Claire Tucker on being students of the month. Also Congratulations to Sarah Oswald on being our staff member of the month.